We service and repair all HVAC equipment.  All of our techs have their Universal refrigerant certifications. Our Service Manager (Keith Koller) is a NATE certified technician.   Give him a call at 970-623-0152
HVAC Grand Junction CO
Appliance Doctor is your go-to company for HVAC Grand Junction CO – we also cover all surrounding areas in the Grand Valley. Our team services and repairs all HVAC equipment. All Appliance Doctor techs have their Universal refrigerant certifications, and our service manager (Keith Koller) is a NATE certified technician. Give us a call for all your HVAC Grand Junction CO needs at 970-623-0152!
Heating and Air Conditioning
Living in Western Colorado, we have a big need for both heating and air conditioning. Our Appliance Doctor HVAC team performs service, repair, and maintenance on all brands and models for heating equipment, air conditioning, swamp coolers, all HVAC models and brands, and everything associated with maintaining the proper temperature in your home and property. We also provide heating and air conditioning services for both residential and commercial properties.
Almost nothing disrupts life more than being too hot or too cold while in your home or property. Heating and air conditioning is something we all normally take for granted. That is, until it's not working properly. If you're experiencing any discomfort in your home, give us a call today! We're happy to come out and handle all your HVAC needs. 970-623-0152!
Air Conditioning
Some people don't mind spending the little bit of extra money during warmer months to have a forced air, air conditioning unit. The advantage to these units is that they perform well no matter the current outdoor climate condition. Air conditioning units work by pulling your property's warm or hot air in through air ducts. As air passes over the coils, it pulls heat out from the air. The cooled air is then pushed back into your home.
There are a number of problems that can occur with air conditioning units, including:
The AC fan can stop working
Electric parts can malfunction
The unit can have a refrigerant leak
The air filter can become too dirty and congested to pull in air
The evaporator coil can freeze
A water leak of some kind can occur
The good news is that you don't need to know the exact problem with your air conditioning unit. We can diagnose issues and repair them for you. The moment you notice that your AC unit isn't working properly, or isn't working well enough to suit your needs and cool your home, give us a call at 970-623-0152!
Swamp Cooler
Swamp cooler units, also known as evaporative coolers, are very popular in Grand Junction and Colorado's Western Slope. They work well in our climate since Grand Junction has such low humidity. These units are also highly cost-effective, and typically save home- and property-owners a decent amount of money keeping temperatures cool. If you aren't familiar, the only downside of these units is that during hot, but rainy days (which are few on the Western Slope), the cooling power of swamp coolers drops dramatically since the air becomes humid.
Swamp coolers can have many similar problems to an air conditioning unit, but do have some unique issues that can also arise:
Low air flow. It can sometimes be difficult to tell if you have enough air flow through ducts or open windows/ doors to make your swamp cooler work effectively. Sometime the problem can also be with the unit, itself.
Water leaks either from normal wear and tear, or from improper swamp cooler winterization (unlike air conditioning units, you do need to winterize your swamp cooler during cold seasons).
Musty odors from old swamp cooler pads or a number of other related issues.
As with issues you experience with any of your property's HVAC equipment, rest assured we can handle your problem. People especially feel they can handle their own swamp cooler winterization and maintenance in Grand Junction, but the costs of doing something improperly can be very high. If you have any concerns at all, give us a call at 970-623-0152!
Heating Repair
Heating units are important for properties not only because they provide comfort and create an enjoyable indoor environment. They're also important for the home or property, itself. Most property management companies, for instance, typically request that tenants never allow indoor temperatures to drop below 60 degrees Fahrenheit. The reason for this is that during Winter months, indoor pipes can freeze if heaters aren't active. Heating repair is very important! Whereas during Summer months, staying cool is more a matter of purely comfort, heater repair during cold times keeps a home from experiencing burst pipes and water damage.
If your heater isn't working efficiently, or worse if it goes out, call us right away! Especially during the year's coldest months – around the holidays and new year – heating repair can save your home from burst pipes. Call us as soon as you have issues, at 970-623-0152!
HVAC Repair
We offer HVAC repair on all brands and devices. As mentioned above, our technicians are NATE certified (North American Technician Excellence). NATE is our industry's largest certification organization in the US. Any kind of work you need performed involving heating, ventilation, air conditioning, and refrigeration should have a NATE certified technician completing the project. Certifications for HVAC repair show a technician's professional competency for service and installation. Whoever you use for HVAC repair and all your HVAC needs, make sure they are NATE certified!
Minisplit Installation & Repair
Minisplits are another great option for your heating and cooling needs. Find out more about minisplits.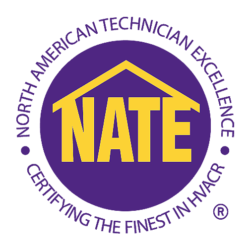 What is NATE Certification?
(NATE) North American Technician Excellence is the nation's largest nonprofit certification organization for heating, ventilation, air conditioning and refrigeration (HVACR) technicians. NATE tests represent real-world working knowledge of HVACR systems and validate the professional competency of service and installation technicians. Contractors, manufacturers, distributors and educators across the industry partner with NATE to develop knowledgeable, competent HVACR technicians. Home and business owners choose HVACR contractors who employ NATE-certified technicians to get repairs done right – the first time.
HVAC Maintenance
Beyond just handling HVAC repair when things break down, we also offer HVAC maintenance. Maintenance services include swamp cooler winterization and de-winterization. We can also take a look at any of your HVAC equipment before use, which can ensure that you have no leaks, no issues, and you're ready to go before the season gets too hot or too cold. Better to make sure your HVAC units are working properly before you need them than to call us in a panic when things break during blistering or freezing temperatures!
Service Areas and Hours of Operation
We offer HVAC repair, HVAC maintenance, HVAC installation, and all associated services to:
Grand Junction
Fruita
Palisade
And all nearby areas!
We offer all HVAC services from 8am – 8pm, Monday – Friday. Give us a call at 970-623-0152 to schedule your service!